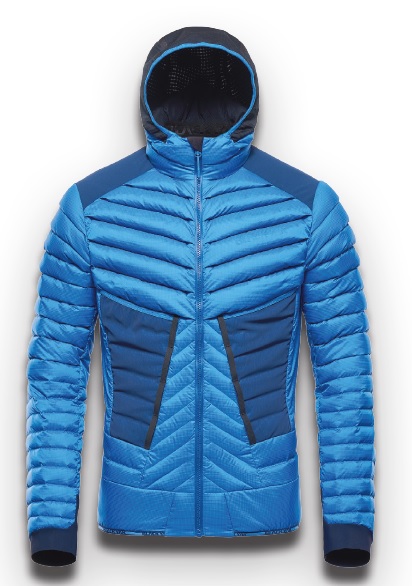 Unique look, unique functions: the BLACKYAK Hybrid Jacket combines different materials, technologies and functions in one jacket. For warmth, comfort and maximum freedom of movement. Mountaineers will love this jacket.
Wind is blowing cold over the top of the mountain. It is cold and the ascent was exhausting, the base layer is wet of sweat. Any mountaineer knows this scenario and how important it is to wear the best jacket available to resist against wind chill and cold. The Hybrid Jacket of BLACKYAK is such a jacket.
Intelligent Insulation Mapping The Hybrid Jacket features intelligent insulation mapping: where the body needs more insulation to stay warm, the insulation chambers have been engineered to create more insulation. In the sleeves the chambers get smaller, as less insulation is required.
Inside this jacket, the padding level of the chambers also varies. There is traceable goose down (750 cuin) over the top area of the body for maximum warmth. At the lower parts of the arms and in the belt area, PrimaLoft® Gold has been used as its hydrophobic properties make it ideal for this.
For the back panel, where more permeability is needed and stretch is vital for maximum freedom of movement, Polartec® Alpha® has been used.
Features for mountaineers Two open mesh pockets with loops for carabiner (men's version) and two zippered hand warmer pockets provide enough storage space for your belongings like ski touring skins, maps, power bars etc. The fleece hood fits perfectly under a helmet. The Hybrid Jacket was tested under extreme conditions even at expeditions in the Himalayas. The great looking jacket is available for both men and women in sizes XS to XL and costs 499 Euro (recommended retail price).
INFO: BLACKYAK