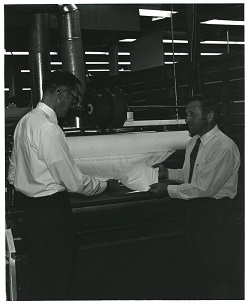 Four decades on from its first commercial order, W. L. Gore and Associates continues to spearhead leadership and innovation in the outdoor garments market.
Seven years after discovering ePTFE in a laboratory in his parent's basement, Bob Gore received the first commercial order for the product.  Forty years on, this initial success has resulted in Gore becoming synonymous with the outdoor pursuits market.
Originally searching for a way to extend the coverage of PTFE, Bob Gore was to stumble on a product that would revolutionize the outdoor garments market.  Expanded polytetrafluoroethylene – ePTFE – was both breathable and waterproof, due to a microporous structure that was comprised 70 per cent air, and is now used in more than 1000 products, from medical devices to guitar strings.
However, the GORE-TEX® name has become a household name through its use in hiking and outdoor equipment and clothing.  The product went on to become a market leader to such an extent that in 1989, the company introduced the GUARANTEED TO KEEP YOU DRY ™ warranty, which places a lifetime guarantee on all GORE-TEX® products to either repair it, replace it or refund the purchase price if the customer isn't happy.
Throughout the past 40 years, the company has been at the forefront of innovation, which includes the introduction of GORE-TEX® Paclite in the late 1990s.  This opened the door to extremely lightweight and small, packable functional outerwear, as the weight per square metre of fabric was reduced from 160g to less than 100g.  To cater for those who find themselves in the most rugged of environments GORE-TEX® Pro was introduced in 2006, with the lightweight and soft GORE-TEX® Active and GORE-TEX® Active with Permanent Beading Surface – the company's most breathable ever membranes – following in later years.
Christian Langer, Global Leader Fabrics Division says: "As someone who was introduced to the outdoors and hiking as a toddler, it seems fitting that Bob Gore's material has gone on to become a leader in this sector.  Forty years on, whether it's for running or cycling, skiing or hill walking, Gore is still proving that it's the market-leader in all sectors of the outdoors activities market, continuing to build upon the groundwork laid by Bob Gore and his family."